Look into the future;




Improve your business performance and profits Now!



Do your Management reports give you a view of the Future Or are you stuck reviewing what happened last month?

Do you discuss your products and stock in terms of performance and value add, not just its Cost?
Imagine the value of having a detailed view of future product sales alongside other Key Performance Indicators.

Your Sales team and Marketing department working together on Figures not just feelings; identifying potential gaps and maximising real opportunities.

Then talking in terms of Products and Quantities, not % of Sales, to Purchasing and Operations so they can get the right stock at the right time.

Maximise On time deliveries, reduce admin, build happy customers AND minimise stock holding and inefficiency.

HILLINGAR's team really have been providing this level of information for 25 years…. We've now achieved getting all this into a clear, cost effective, Dashboard and Action report.

This is not a strategic Financial report but a comprehensive overview of product and stock performance now and into the future.
It is designed to be used either as an ad-hoc snapshot or repeating "progress" report. Used alongside your Financial reports this takes your Strategic and Day to dad Operational discussions to the next level.

Use the data your business has to its full benefit and get that competitive advantage!
The HILLINGAR report contains a dashboard of easy to read charts and graphs coupled with our professional opinions on actions that will provide the greatest results.
By taking your raw data, utilising our specialist forecasting and analysis tools, then combining it with our experience and expertise we are able to calculate detailed trends at product level.
These critical details and highlights are then presented in an easy to use format that generates discussion and supports you and your staff to make informed and qualified decisions.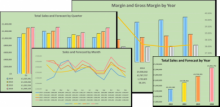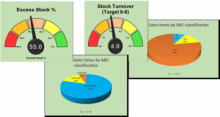 We can provide you with the following information:
Sales prediction for the next 2 years

Margin analysis

ABC Product analysis

Product group performance and trends

Customer analysis and trends

Stock turnover

Excess stock information
The benefits will enable you to:
Review Real data that can be used in a range of meetings to support strategic decisions

Discuss potential Sales / Marketing gaps, risks and opportunities, supported by figures

Optimise purchasing / production, based on detail not %'s

Concentrate on the right products and ensure stock availability at the right time

Look at product ranges and make decisions on rationalisation

Look at excess and dead stock and how this can be reduced
HILLINGAR's data analysis and business intelligence (BI) services support you in getting a clearer and deeper understanding of your business. Knowledge is power, Knowing the future potential changes everything.
Imagine the competitive advantage that could be achieved combining the knowledge of your business with HILLINGAR's detail.

We charge between £750 and £1500 depending on the complexity of the data.
One of our small clients reduced their stock by £80K in just 4 months.
What do you want to achieve?
CONTACT one of our team today to find out how you can also achieve these results.
Call 0845 64 34 64 3 or 01273 782082 or email DAR@hillingar.com
If your Crystal ball doesn't seem to work anymore you need HILLINGAR's Dashboard and Action report.
Our clients are typically manufacturers and distributors based in East Sussex, West Sussex, Kent, Surrey and London (but not exclusively!). Read more about us and our case studies.